Shopping Cart
Your Cart is Empty
There was an error with PayPal
Click here to try again
Thank you for your business!
You should be receiving an order confirmation from Paypal shortly.
Exit Shopping Cart
| | |
| --- | --- |
| Posted on April 18, 2017 at 10:35 AM | |
Do you ever underestimate how much plants effect our daily lives? Don't feel bad! Everyone does at one point or another. Take bulb plants for example: we often use onion and garlic bulbs in cooking, to achieve that flavor base that we love in so many of our dishes. The foliage in some bulb plants are woven for use in baskets or decoration. Most bulbs are just beautiful, though. So beautiful, in fact, that they can influence not only the look of our yards and gardens, but influence the economy as well (such as the tulip mania-driven Dutch market collapse in the mid 1600's).
All Bulbs are not the same!
There are many different species and types of bulbs from all over the world. "True" bulbs such as tulips, hyacinths, and daffodils have a papery coating on the outside, called a tunic. There are other bulbs, with or without a tunic, that do not meet all of the criteria to be considered a true bulb, such as Crocus or Gladiolus. While these plants have a similar structure to true bulbs, they may not have a basal plate, a rounder shape, lateral bulbs (also called pups, offsets, or daughter bulbs), or scales. If your plant is not a true bulb, it is likely a corm, a tuber (such as a potato), or a rhizome (such as a ginger root).
Bulbs can teach us a lot!
Bulbs are a wonderful living lesson! When grown in water, you can watch not just the plant grow out of the top of the bulb, but the roots growing from beneath! This presents so many opportunities to learn about things like plant growth and the needs to of plants, cell division, vascular systems, reproduction, flowers, and tons more! Want to try out this fun and easy spring science project? Just buy a bulb and grow it!
How to grow a bulb
This part is easy. Just place the base of your bulb in some water! You can buy a special bulb vase or old-fashioned milk jug (which are often one in the same), fill it up with water, and place your bulb in the top of the container. You can also just use a glass with a smaller glass flipped upside down into it. This will force the roots to grow in such a way that may make them easier to study. If you want a bit of decoration, you can also fill a glass mostly up with stones, cover the stones with water, and place your bulb on top. Once you've selected your container, just make sure your plant has enough water and is getting the sunlight that it needs. That's it!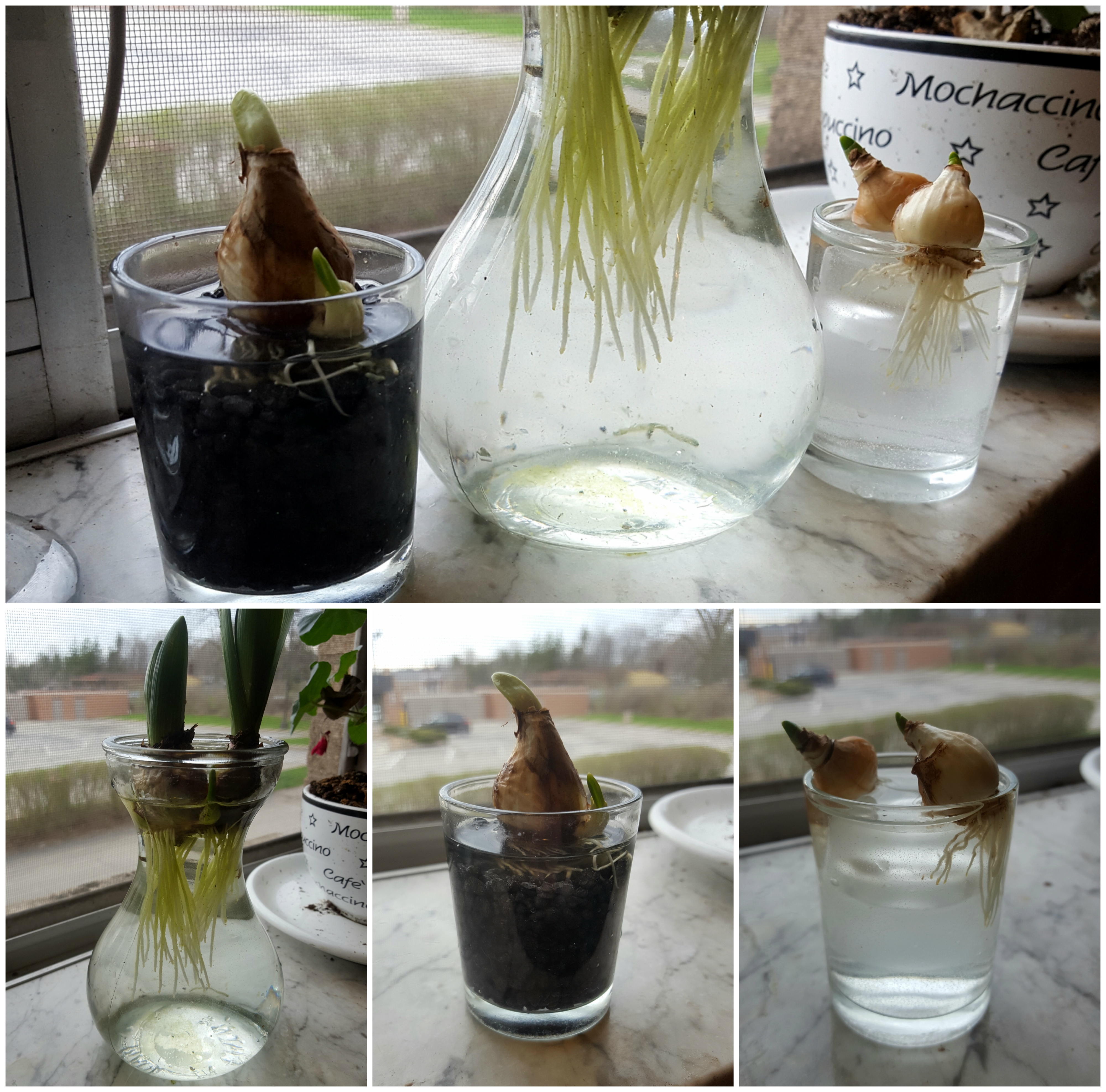 Why learning about plants is important
Plants are the reason we exist! They produce the oxygen we breathe, the food we eat, and the materials we build with. Some plants are used to save lives, while others are grown just for their beauty! We feel it is important for children to connect with plants at an early age, so that they might develop respect and appreciation for them. Considering that plants were some of the first organisms to develop on land, understanding the biology of plants may help us understand the biology of our own past, present, and future. If you want to help your child learn more about plants, check out these worksheets to help guide you through the process of learning about bulbs. You can learn and practice vocabulary, anatomy, biology, observation skills, and even some art skills with these worksheets!
Project notes:
If you don't have time or money to go out and purchase a flowering bulb plant, onions can make a cheap alternative for this project. Better yet, you can eat the onion when your done with this project! Daffodils, tulips, and hyacinth are my recommended flowers for this project as they all grow easily and quickly, and will later provide opportunities to learn about flowers.
If you're using the worksheets, you may want to think about creating a Young Naturalist Journal for your child. These worksheets were designed with that thought in mind, and have the look of a nature journal already. There's tons of ideas online as to how to create a nature journal, but you should really focus on your child and what's available to you when creating yours.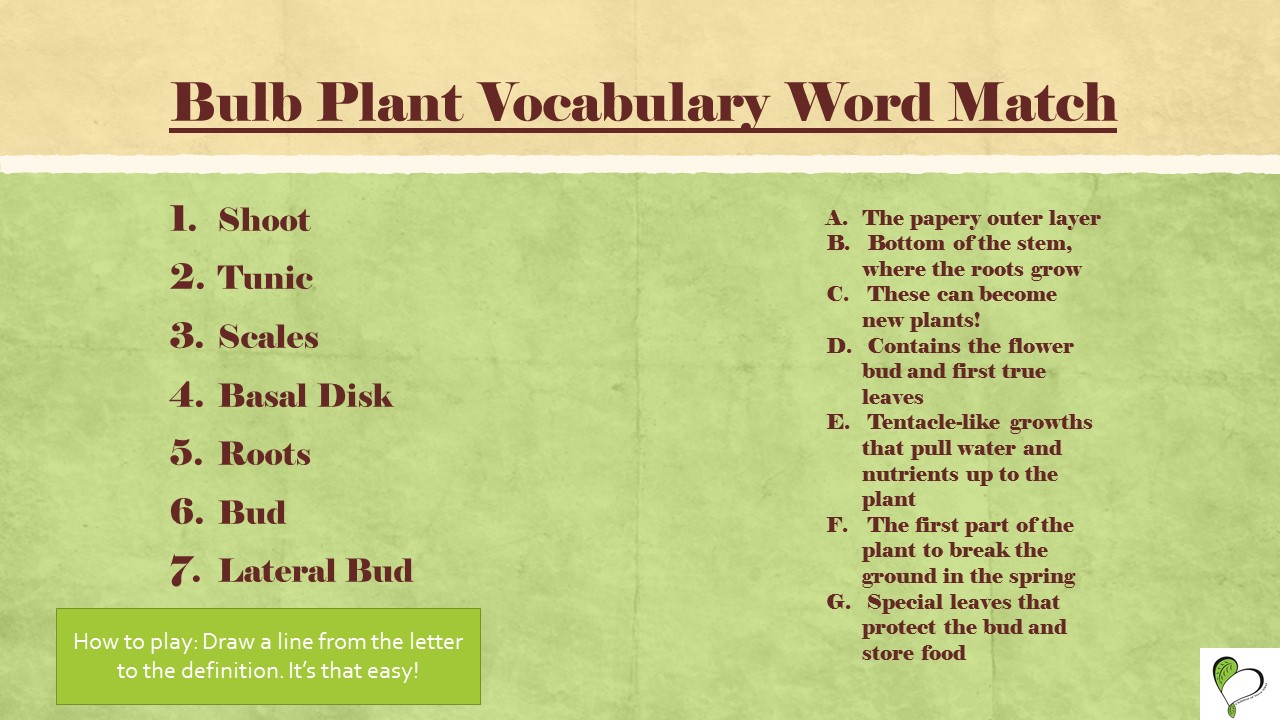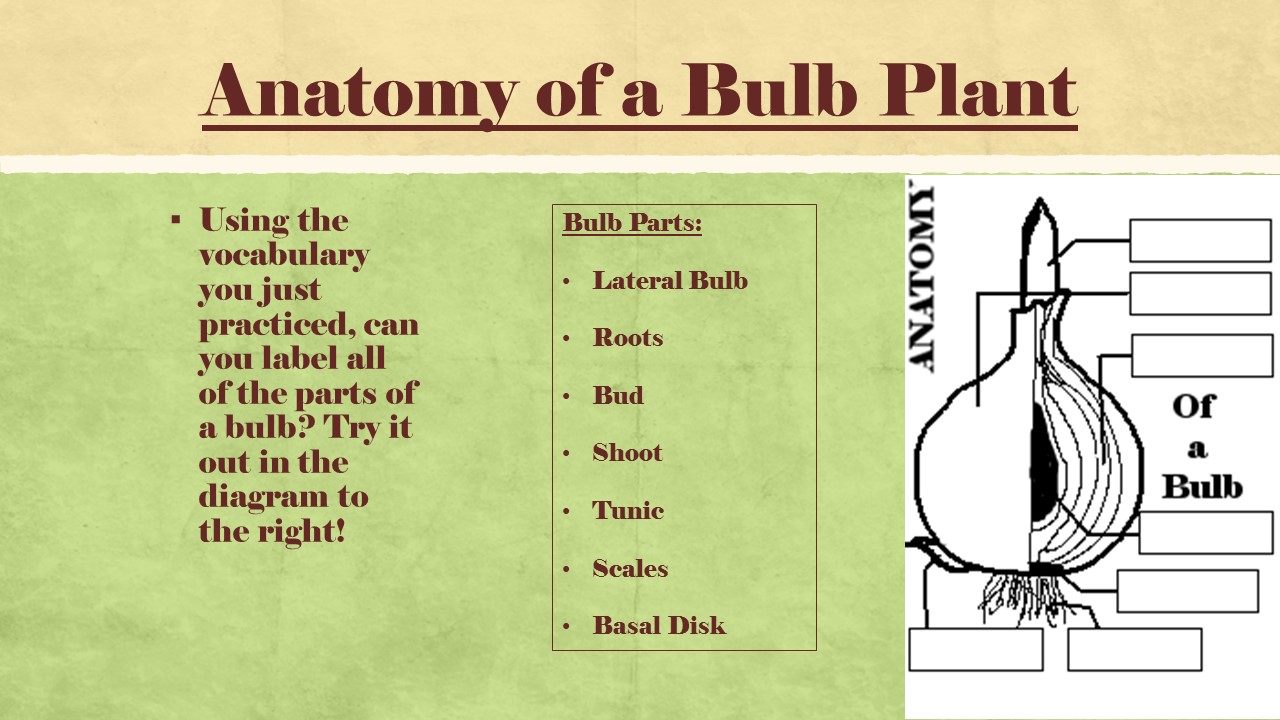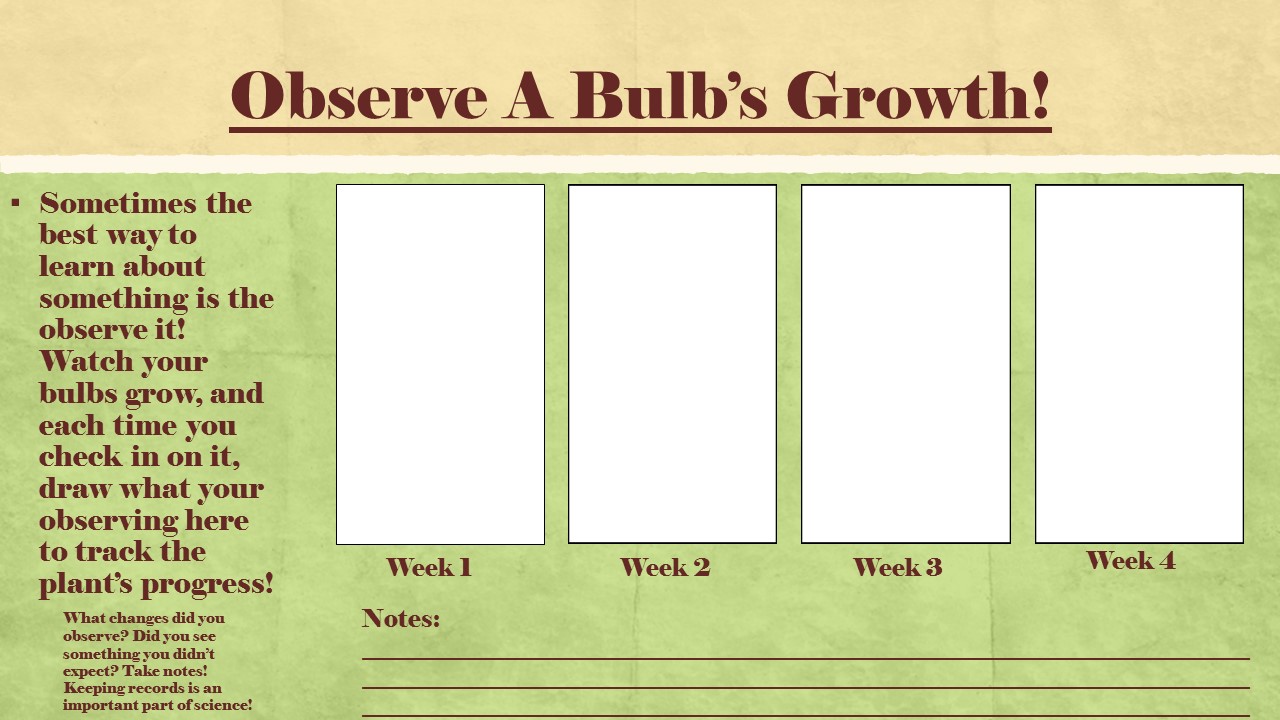 CJ @ Children of Terra-NEO
 
What kind of bulbs did you use for this project? How did they grow and what did you learn? Did you find the worksheets helpful? And did this inspire you to come up with another project! Let us know in the comments section below! We love seeing your projects!
Vocabulary Match Game: 1-D, 2-A, 3-G, 4-B, 5-E, 6-F, 7-C
Anotomy, from top box to bottom box: Bud, Tunic, Scales, Shoot, Basal Disk, (bottom right) roots, (bottom left) lateral bud
Resources:
Investopedia-The Tulip Mania Market Crash
https://quizlet.com/333332/plant-biology-terms-flash-cards/" target="_blank">Quizlet-Plant Biology Flash Cards
https://www.newscientist.com/article/dn21417-first-land-plants-plunged-earth-into-ice-age/" target="_blank">New Scientist: First Plants May Have Plunged Earth Into An Ice Age
PopSci-When Did Life Come to Land?
https://extension.illinois.edu/gpe/case5/c5facts1.html" target="_blank">University of Illinois, The Great Plant Escape-Bulbs
 
Categories: leafSTEM: Connecting Science, Tech, Engineering, and Math with the Environment, Eco-Fun Kids Corner
/