Shopping Cart
Your Cart is Empty
There was an error with PayPal
Click here to try again
Thank you for your business!
You should be receiving an order confirmation from Paypal shortly.
Exit Shopping Cart
| | |
| --- | --- |
| Posted on October 1, 2020 at 2:30 PM | |
Hidden amongst us is an entire world, unseen. It exists all around as, as well as within us. This world is teeming with a wild diversity of life that is everchanging and evolving. This world is the microworld, and within it exists a great many creatures and organisms. Viruses, bacteria, and fungus are the most common. Tiny insects and other creatures, like the tardigrade, live within this realm as well. The micro world consists of tiny things that we cannot see without the aid of magnifying lenses, like a microscope. When a lot of microorganisms group together into what is known as a "colony", we can see them like how astronauts can see cities from space. That's exactly what you'll be doing with this project!
We usually think of "dirty" places as having a lot of bacteria, but sometimes our idea of what's dirty and what's not is skewed by how we think of things. As an example, we often think about the toilet as being dirty because it's where we relieve ourselves, but the non-porous surface and frequent flushing can actually help prevent bacterial growth. On the flip side, a kitchen sponge is often viewed as clean because it's what we use to wash our dishes. However, the porous nature of the sponge combined with it's exposure to food and constant moisture can actually make it an incredible breeding ground for bacteria.
Let's get to the experiment so you can see for yourself!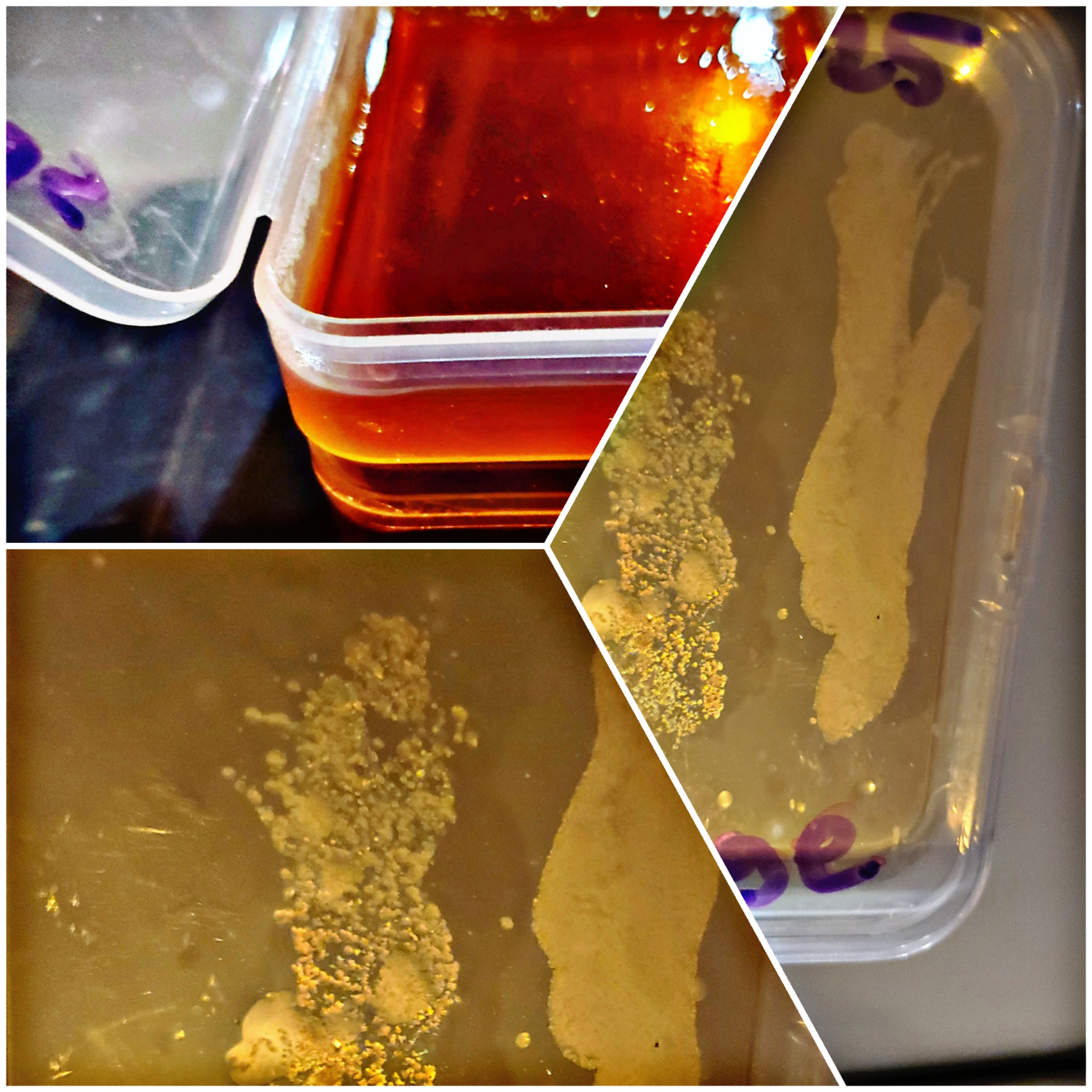 Here's what you'll need:
-Stove or Microwave
-Refrigerator
-Petri dishes (or something similar)
-1 cup Beef Stock
-1 Packet unflavored Gelatin
-2 Teaspoons Sugar
-Clean cotton swabs
-Tape
-Marker
What to do:
To start this experiment, we need to make a growth agar. This is a substance that provides a surface for bacteria to grow on while also providing a food source. Some bacteria feed on proteins, others prefer sugars. This agar gel will provide both, giving you a wide range of potential bacteria to grow. To make the growth agar, start by heating up the beef stock to the point of boiling (this can be done in a stove or microwave). Remove from heat and mix in the sugar and gelatin, making sure to stir all ingredients until fully dissolved. Let the mixture cool for about 10 minutes.
While the mixture is cooling, make sure your petri dishes are sterilized (or as sterile as you can get them). The best way to do this if using glass or heat-safe plastic is to submerge them in boiling water for approximately ten minutes, before removing them with tongs and allowing to air dry and on clean space. While your dish will still have some contamination due to contact with the air, this step will help provide you the best possible results for a home experiment.
Once your agar mixture is cooled and your dishes are sterile and dry, fill each dish about halfway with the mixture. Let cool a bit longer before closing and placing in the fridge to set. After about two hours, your prepared agar should be ready. If need be, you can keep them in the fridge for up to two days before using. Remove the dishes from the fridge and allow to warm up to room temperature before using.
The next step is inoculation! Think of a few places around your home that you think of as really clean or really dirty. As previously mentioned, the toilet and kitchen sponge are good places to start. Using a fresh cotton swab, rub the swab over the surface you want to test. Without touching anything else, gently rub that same part of the cotton swab over the surface of your agar. Close the dish, wash your hands, grab a fresh swab and dish, and do the same with another surface. Be sure to label each dish with where the sample came from using tape and a marker.
Place all of your samples in a warm place to incubate them. For our project, the back end on top of the fridge provided the perfect conditions for growth. Now it is time to wait and observe. Come back to your samples at two, six, twelve, and twenty-four hours to observe and compare each one. By twelve hours, you should notice at least a streak or film on some of the areas you've swabbed. By twenty-four hours, obvious bacterial growth and colonization should be visible. Be sure to take notes throughout the project to refer back to or compare samples later.
After your twenty-four-hour observations, you'll want to safely dispose 0f the experiment. By day two, the bacteria may start breaking down the gel which leaves a runny mess. While some bacteria are good for us (like probiotics in yogurt), some can be really nasty or harmful to us. It's best to just not take the risk and dispose of the whole sealed dish.
Project Notes: As always, be sure to use proper protective gear while preparing and conducting this experiment. Heat protection when making the agar, as well as gloves and a facial covering while swabbing and inoculating are important. Also, be certain to wash your hands and change gloves in between each step. Doing so not only helps protect your health but also helps keep germs on your hands from contaminating your experiment.
If you don't have petri dishes, don't fret! There's plenty of other options. Baby food jars or clean deli containers can work, too! Just make sure you can safely sterilize and close whatever it is you're using. We just happened to have sterile locking containers left over from a field job, so we used those.
Where did you take samples from? How did your cultures turn out? We love to see your projects! Be sure to share them with us here, or on any of our social media pages.
CJ w/ Children of Terra-NEO
Categories: leafSTEM: Connecting Science, Tech, Engineering, and Math with the Environment, How-To's
/