Shopping Cart
Your Cart is Empty
There was an error with PayPal
Click here to try again
Thank you for your business!
You should be receiving an order confirmation from Paypal shortly.
Exit Shopping Cart
| | |
| --- | --- |
| Posted on October 25, 2019 at 12:45 AM | |
Have you ever been taking a walk and noticed a plant you didn't recognize? There's an app for that! In fact, there are quite a few apps to help identify plants. Sometimes, though, they don't work right. The photo recognition technology these apps use isn't perfect, and can get confused. Sometimes you don't have service, or your battery is too low to take a picture. When technology fails, it's usually best to know the "old-school" method of doing things. When it comes to IDing plants, the old school method is to compare it to the plants in a field guide until you find the most logical match. But field guides can be bulky and heavy, take up too much room in your bag (if you're even carrying a bag), and you may need a lot of them to be able to identify all of the flora in a given area. What do you do, then? Luckily, there is still a solution. It's a VERY old school solution, going back hundreds of years, if not more. The solution? Leaf pressing! With leaf pressing you can collect leaves to take home or back to camp and study more in depth later.
Leaf pressing is a method of preserving leaves in which you place them in between flat layers of absorbent material, such as paper, to remove the moisture as quickly as possible. People have been using leaf pressing as a means to document, study, and even decorate with leaves for quite some time! Scientific collections of dry preserved leaves are often referred to as "herbariums", and have helped us further our scientific understanding of plant biology and evolution for hundreds of years. Preserving leaves may go back even further, though! Decoration or preservation for the use of medicine are just a couple of other uses of pressed leaves that have been documented for centuries.
I'm sure, at this point, you're probably looking at leaf presses online and thinking "The writer is nuts. These are way bulkier than some field guides." Yea, some of them are. In this post, however, you'll learn how to make your own field press that's small, lightweight, and easy to use! The best part is that you only need a few things to make it, and some of it you might already have in your home!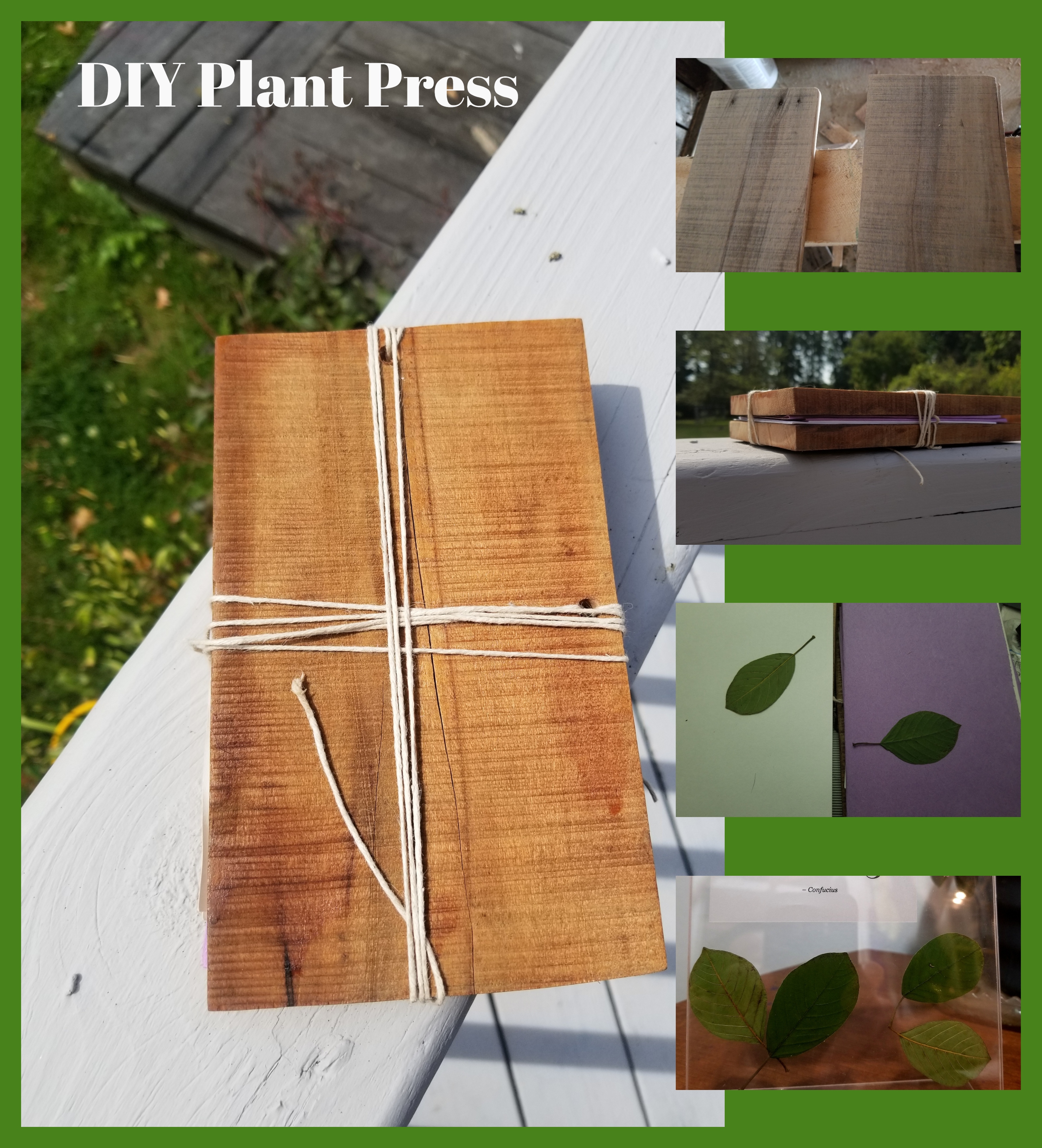 What you'll need:
 
2 small wood boards of the same size
Twine, yarn, or cord
Paper
A drill
A saw
Sandpaper
Stain and/or sealant (optional)
 

What to do:

 

First, the boards need to be prepared. Choose a thin, but strong piece of wood without any cracks or weak knots in it. For ours, we used a thin piece of pallet wood. Next, cut the board so that you have 2 boards of the same size. We cut ours to about the size of a small notebook. If you don't have access to a saw, don't fret! Many hobby shops carry pre-cut wood boards that should suit your needs. You can also get wood cut at most home improvement stores that sell lumber for a nominal fee.

 

Next, the board needs to be sanded to remove the rough surface and reduce the risk of splinters. For this, we used 220 grit sandpaper for a smooth finish, but you can use whatever is available to you as long as you're comfortable regularly handling the wood when you're done. Once you're done sanding, you'll need to drill a couple of holes. These holes will have the cord run through them to help keep everything tight and together later on, so make sure you choose a drill bit slightly larger than the cord you're going to be using. You may want to clamp or tie the boards together to make sure the holes are perfectly lined up. Drill one hole along the short edge of the board, and another along the long edge. If you are going to, this would be the perfect point to stain and/or seal the wood. Tie the cord to a hole in the bottom board, and run it through the corresponding hole in the top board. Do the same for the other hole.

 

Finally, to finish the press you'll just need some paper. This part is where a little experimentation can go a long way. The idea is to draw as much moisture away from the leaf as quickly as possible, so the more absorbent the better. That being said, avoid using paper towels or tissue paper, as the texture can imprint onto your leaf or flower. We used printer paper, construction paper, and blotting paper. In a pinch, newspaper or circular ads work pretty well, too! Just fold and trim the paper to fit in your leaf press in a way that is easy for you to use. The single fold, book page style seems to be the easiest for most people. Once you've added the paper, you're done!

 

How to use:

 

Choose a good leaf or flower to be pressed. Something relatively flat or that will hold its shape when flattened will work best. Try to avoid really fleshy or juicy specimens as they may wilt rather than properly dry in the press. Place your chosen leaf or flower between layers of paper and close the leaf press. Holding as much force as you can on the press, tightly wrap the cord around it to hold the compression. That's it!

 

You can use the leaf press as is, or stack something heavy on top of it (such as books) when you get it back to home or basecamp to give it a little extra pressing power. Let the leaves stay pressed for about a week before checking on them. If they still look good and aren't wilting or rotting, press them again and let them sit for a few more days. Once your leaf or flower is completely dry, it's ready to be used to decorate with or to archive into your own personal herbarium!

Categories: How-To's, Upcycling and DIY, leafSTEM: Connecting Science, Tech, Engineering, and Math with the Environment

0

/