Shopping Cart
Your Cart is Empty
There was an error with PayPal
Click here to try again
Thank you for your business!
You should be receiving an order confirmation from Paypal shortly.
Exit Shopping Cart
| | |
| --- | --- |
| Posted on September 17, 2018 at 2:40 PM | |
Think fall scents and what comes to mind? For a lot of people, it might be pumpkin spice. Others, it might be the smell of a campfire and hot apple cider. For me, it's the smell of fresh cut cedar wood. Sounds kind of odd at first, until you think about the campfires and wood stoves all of that wonderful fall food is being cooked over. With the season of autumn aromas right around the corner, that means dry skin season isn't far behind. A lot of us turn to special lotions and moistorizers, but what if we combined the wonderful smell of autumn woods with a super-rich body butter? The answer to that question lies in the following recipe.
Mystic Woods Body Butter
Ingredients:
-3½ tablespoons Shea Butter
-1 tablespoon cocoa butter
-½ tablespoon Sweet Almond Oil
-8 drops Cedarwood Oil
-4 drops Sandalwood Oil
Directions:
You will need a double boiler. If you already have one that you use for soap and/or candle making, great! If not, you can use a heat-proof glass bowl and a pot of water that the bowl can rest on top of. If you're in a pinch, a tin coffee can could work as well. Combine the shea butter and cocoa butter in the double boiler, over medium-low heat. Allow the butters to melt, being sure to stir occasionally. DO NOT let the butter mixture simmer or boil. Once the butter mixture is completely melted, stir in the oils. Leave over heat for a few more minutes to make sure the mixture is a uniform temperature and give it one last stir. If you are not using a bowl or double boiler insert that ca handle rapid temperature changes, transfer the mixture into a container that can (such as Pyrex or plastic).
Move the mixture into the freezer and allow it to set for about 13-16 minutes. You want the top of the mixture to be just firm enough to poke without your finger going into it. Once firm, it's time to whip it up! The easiest way to do this is with an electric hand-mixer, using a whisk attachment. If you don't have one, an ol' fashioned egg beater or vigorous hand-whisking will do the trick, it will just take longer to achieve the right texture. Whip the mixture until it expands to about a third more in volume than when you started. When it has the consistency and texture of fresh butter spread, it's done. That's it!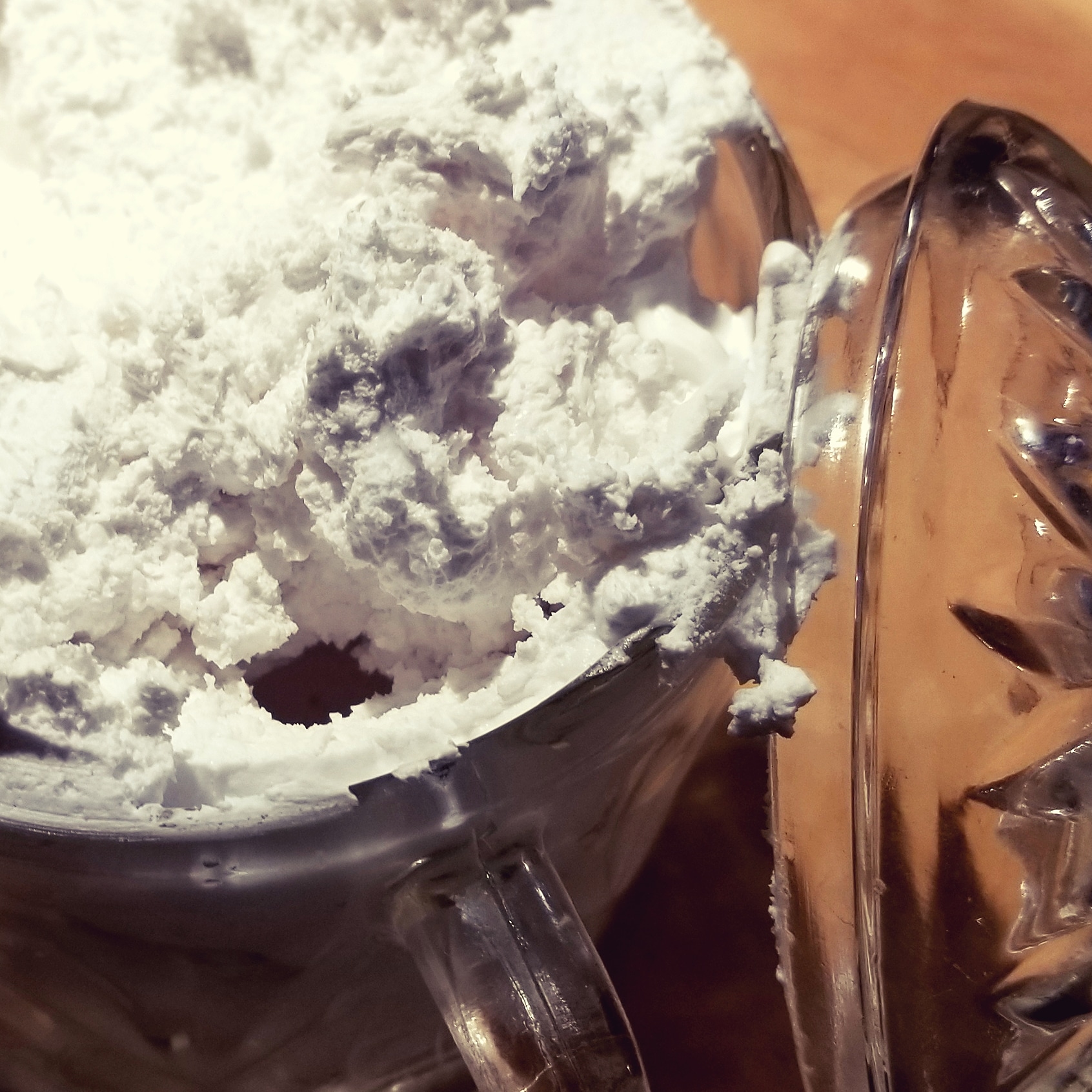 Project Notes:

If you don't already know the benefits of shea or cocoa butter, it's time to get hip. Shea butter is a fatty-rich oil that is extracted and purified from the nut of the karite tree, a.k.a. the shea tree. It's packed with vitamins A and E, which both have a host of wonderful dermatological benefits. And remember the fat we mentioned? It's a great source of moisture, especially for dry skin. Cocoa butter is a similar fatty-rich oil that is extracted from the bean of the cocoa bean. High in antioxidants, vitamins, and fats, both butters help protect the skin from the sun and signs of aging, moisturize, and help the elasticity of skin.

Cedarwood oil has quite a few properties and health benefits derived from the many chemical compounds, but for this recipe we'd like to focus on the effects it has on aches and pains. As an anti-inflammatory, cedarwood oil can help reduce joint pain after a long day of work, a good hike, or even just every day pain from arthritis. As an astringent, cedarwood oil can also help tighten your skin and reduce the appearance of stretch marks and the like. This is important, since there is very little evidence to support the long-held notion that cocoa or shea butters can help reduce the appearance of stretch marks.

How did your body butter turn out? What benefits have you noticed using it? Did you add anything else to it, and why? We love to see how your projects turn out. We love seeing you start with these projects as a base and running with it even more! Let us know how it went in the comments below, on our Facebook page (facebook.com/childrenofterra), twitter (@childrenofterra), or Instagram (https://www.instagram.com/childrenofterra/" target="_blank">@childrenofterra)!

CJ w/ Children of Terra-NEO

Resources:

https://www.aromafoundry.com/blogs/aroma-foundry/cedarwood-essential-oil-uses-description-recipes-precautions" target="_blank">Aroma Foundry-Cedarwood Oil

https://www.healthline.com/health/beauty-skin-care/cocoa-butter-benefits#research" target="_blank">Healthline-Cocoa Butter

https://www.stylecraze.com/articles/best-benefits-of-shea-butter-for-skin-hair-and-health/#gref" target="_blank">Style Craze-Shea Butter

 

Categories: Health and Hygiene , How-To's

0

/