| | |
| --- | --- |
| Posted on August 31, 2017 at 12:35 AM | |
Here's a riddle for you:
I am one of your most abundant natural resources, but I can also be one of the most fragile. I am almost always under your feet, yet often overlooked. I am what this planet is named for. What am I?
If you guessed dirt or soil, good job! You got it right! If you didn't guess correctly, it's all the more reason to learn more about this incredible resource. Many people think of soil as just a dead sort of thing, but it's quite the contrary! Soil is a biologically diverse and incredibly important resource. We need it to grow food, build things, provide a habitat for wildlife and important organisms, to help absorb carbon as part of the carbon cycle, and to store water and nutrients.
Something else that's important to know about soils is that they aren't all the same! In fact, you can have many different types of soil within feet of each other, let alone over vast distances. Different soils have different textures to them, or feel differently. This has to do with the types and sizes of grains in the soil. Often, soils are classified and sand, silt, clay, or loam. Sand is the largest, and heaviest soil grain. The second largest is silt, while the smallest grains are clay. With today's experiments, you can learn more about the texture of soils, and see the difference in soil grains for yourself! Be warned, we'll be getting dirty!
Soil Texturing
This easy field experiment is a fun and easy way to generally classify the texture of the soils in your own neighborhood! You don't need any special scientific equipment, just a few household items and your eyes and ears.
What you will need:
-A small shovel
-Water
-A measuring tape or ruler
Directions:
Dig up a bit of dirt for your soil sample. You will only need a palmful of soil for this experiment. Be sure to pick out any large bits of grass or vegetation, and any organisms living in your sample. With the soil in your palm, add water a drop or two at a time while kneading your soil. You want to break down the clumps of soil, or aggregates, and mix the soil. Keep doing this until your soil is moldable, like a putty. Next, place some of your soil in between your thumb and forefinger, and begin gently squeezing it outwards into a ribbon. Be sure your ribbon is of uniform thickness and width. As you squeeze out the ribbon, allow it to break off under its own weight. Now you can measure your ribbon!
So what kind of soil are you working with? Let's figure it out!
If your soil:
Did not form a ball after adding water and kneading: If it won't form a solid ball after kneading, you soil is sand.
Formed a ball, but won't form ribbons: If your soil formed a ball after kneading, but fell apart before forming into a ribbon, it is a loamy sand.
Formed a ribbon of 2.5cm or smaller: If your soil formed a ball after kneading, but only formed short ribbons of 2.5cm or smaller, it is a loam.
Formed a ribbon of 2.5-5cm: If your soil formed a ball after kneading, and forms a ribbon between 2.5 and 5cm longs, it is a clay loam.
Formed a ribbon of greater than 5cm: If your soil balled after kneading, and formed a ribbon longer than 5 cm, it is a type of clay.
Next, it's time to REALLY get a feel for your soil. Take a small bit of the kneaded soil in your palm and wet it excessively. With another finger, rub the wet soil around in your palm. So long as your soil formed a ribbon, you can further texture your soil. If your soil is gritty, you can hold the soil up next to your ear as you rub to hear the grains of dirt grinding against each other.
If your soil is super smooth, it is likely said to be silty. If your soil is particularly gritty, it is likely said to be sandy. If it doesn't really feel more smooth than gritty and vice versa, your soil is said to be just as it was ribboned. Here's a few examples:
Smooth soil that formed a ribbon of less than 2.5cm: Silty loam
Gritty soil that formed a ribbon of 2.5-5cm: Sandy clay loam
Soil that isn't gritty or smooth that formed a ribbon longer than 5cm: clay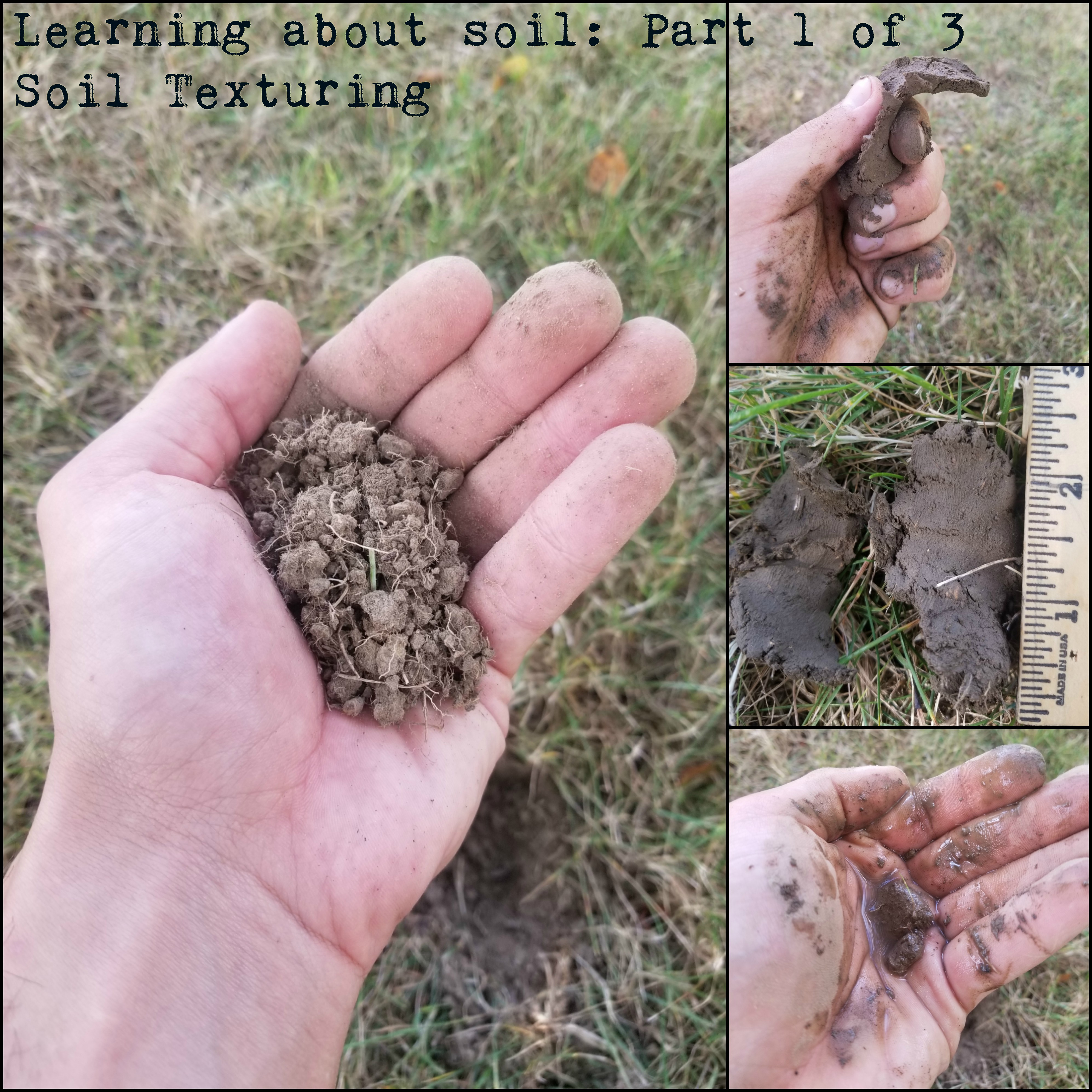 I'm sure by now we are all kinds of dirty, but at least we got to have some fun! In the process, we learned about soil texture and how to texture the soil in your own community. Head out around your neighborhood and try this field experiment a few more times in different areas. After you have, tell us about what kinds of soil textures you have near your home in the comments section below! Just be sure to have permission to dig before doing so.
Project notes: Don't have a shovel? Don't fret! You can use anything to dig up your sample, such as a stick or a butter knife. Just be careful and be sure you are being supervised or assisted by an adult if you are too young to do so yourself.
Please keep in mind that this is a basic field experiment, and the measurements used in this post are a general guideline. For more information on soil in your area, visit your local agriculture departments or university websites, the https://websoilsurvey.sc.egov.usda.gov/App/HomePage.htm" target="_blank">USDA soil website, or visit the ISRIC-World Soil Information website.
Don't forget to check out parts 2 and three to learn more about soil!
Resources:
AP Environmental Science Labs-Soil Analysis
https://www.youtube.com/watch?v=GWZwbVJCNec" target="_blank">UCDavisIPO youtube channel-Soil Texture by Feel
University of rhode Island-The Importance of Soil Texture
My Agricultural Information Bank-Soil Textural Classes and Importance 
 
Categories: leafSTEM: Connecting Science, Tech, Engineering, and Math with the Environment, Eco-Fun Kids Corner