Shopping Cart
Your Cart is Empty
There was an error with PayPal
Click here to try again
Thank you for your business!
You should be receiving an order confirmation from Paypal shortly.
Exit Shopping Cart
| | |
| --- | --- |
| Posted on July 11, 2017 at 10:10 PM | |
It's world population day! That means today is a day to not only reflect on our population and its effects on the world, but to take action to help our planet and its people as our numbers continue to grow.
What is world population day?
Back in 1989, the UN Development Programme suggested that July 11th should be a day to turn our focus towards the issues that surround our population. Since then, each year tends to follow a theme surrounding a specific population-related issue. This year, the theme is family planning. It makes sense, as our population issues are a direct result of our procreation.
Here, we prefer to keep our focus on the environmental problems related to population issues. Things such as climate change, pollution, and lack of resources. Really, these are just a few of the problems we face. Take some time to educate yourself on the issues and get inspired to take action!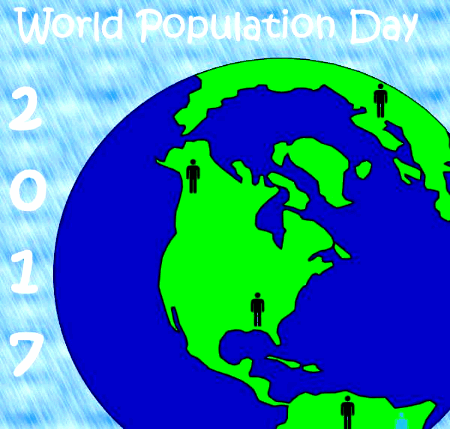 -Learn!

Seriously! There's no time like the present to start learning about all of the population-related issues facing the world. A quick internet search will turn up tons of reputable websites, such as the United Nations, that provide a wealth of information on these issues. Read a book, contact a local expert, just reach out and try to educate yourself!

-Talk about family planning and reproductive health

Talk to your family and friends, healthcare providers, and family planning specialists to learn more about responsible family planning, reproductive and sexual health, and the issues related to population. Seek out organizations that provide family planning and contraceptive services and see what you can do to help support them.

-Be green!

This is something we should be doing every day, anyways. Climate change, pollution, and lack of resources are all environmental issues related to population. You can take big steps today, like switching your home to renewable energy. You can also take little steps today, like turning off lights or electronics when not in use.

Get some friends together and go clean up litter in your local community. Help your neighbor sort recycling, or find a volunteer group to get involved in. Not only are you helping to keep your own neighborhood looking good, but you are helping the environment as well!

Plant your own garden! As resource scarcity becomes a growing problem, food supplies become harder and harder to manage for our populations. Do your own part to curb the issue and plant some of your own food! There's plenty of midsummer crops that can be planted now, on top of all of the container plants you can take inside for the winter!

-Spread the word!

If you've learned a bunch about World Population Day and the issues facing us that are related to population, than get out there and start spreading awareness! Talk to friends, family, and co-workers about these issues and what can be done to help. Take to social media and help spread awareness! Do whatever you can, just help spread the word!

CJ @ Children of Terra-NEO

To learn more about World Population day and the many issues that face us related to population growth, please visit the following links:

United Nations-World Population Day

World Watch-Celebrate World Population Day

 

Categories: Going Green, Efforts and Intitatives

0

/