Shopping Cart
Your Cart is Empty
There was an error with PayPal
Click here to try again
Thank you for your business!
You should be receiving an order confirmation from Paypal shortly.
Exit Shopping Cart
| | |
| --- | --- |
| Posted on April 25, 2017 at 9:35 PM | |
The average American household spends around $750.00 a year on fruits and vegetables. That's a lot of green to be spending on greens, especially when you can grow a lot at home! Even in an apartment, you can cut back your costs, as well as your impact on the environment, by growing at least some of your own food. Container gardening, hydroponic setups, or even grow tents can help you produce fresh, delicious food. Best of all, you know where the food is coming from!
While growing your own food is already awesome enough, you can make it even better. You can further stretch the benefits of growing your own food by RE-GROWING your food! As crazy as it sounds, it's absolutely true! Even better yet, you can usually do it with just a container and water. Below we'll share a list of some of the easiest foods to regrow, and how to do it!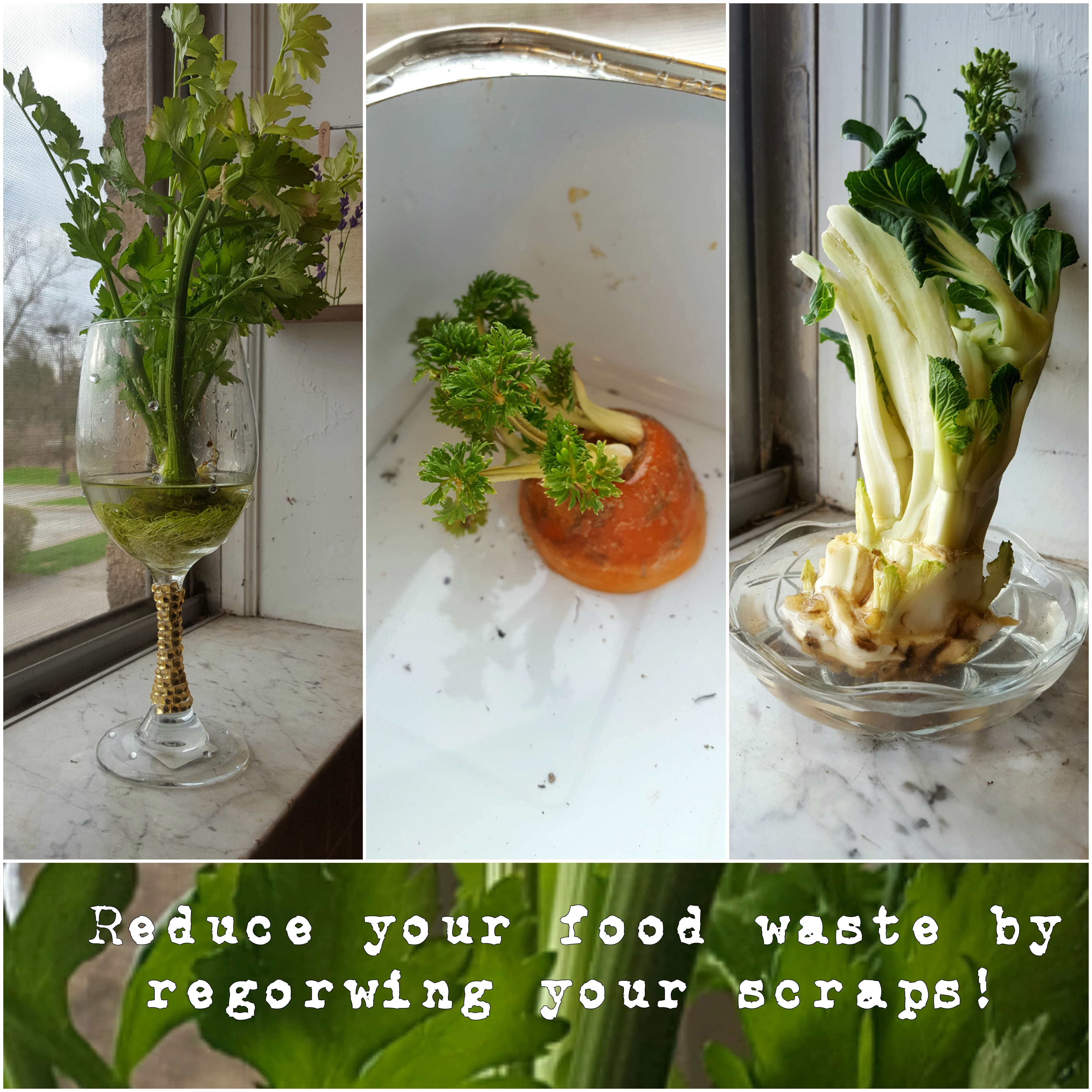 -Carrot

When you cut the end off of your carrot, be sure to leave about an inch of the actual carrot with the greens attached. Place the "butt" in a shallow dish filled with water, with the cut part down. You should place your carrot somewhere with strong, indirect sunlight. Be sure to change the water every few days. After about a week, you should start to see roots growing from the sides of the carrot. Once these roots grow to about 2" in length, transplant your carrot into either a pot filled with soil or in the ground, if it's the right season to grow. Be sure to bury the carrot up the base of the greens. After a few weeks, you should be ready to harvest again and start over!

-Celery

When you use your celery, be sure to cut your stalks off about 2" from the base. Place the base of the celery in a shallow dish filled with water and place somewhere in bright sunlight. Be sure to change the water every few days. After a few days, you should start to see the "heart" of the celery shoot up and start to grow new leaves. A few days more, and roots will start to grow out of the base of the celery. Within a few weeks, you will have a brand new stalk of celery ready to harvest and enjoy.

-Bok Choy

The same rules apply for bok choy as they do for celery. Cut 2" from the base, place in water, keep in strong sunlight. If you wish to obtain seeds, leave the heart of the bok choy in tact before your place it in water. Under the right conditions, your cabbage should flower and produce seeds to plant next season!

-Iceberg Lettuce

Before you start chopping up your lettuce, look at the bottom of the head. That disk on the bottom is where new roots will grow if you extract the heart. The easiest way to do this is to smack that disk onto a hard surface. It shouldn't take a lot of force-you can use the palm of your hand. The heart of the lettuce should come loose. Just grab the disk and pull the heart out! Then place in a shallow dish of water. While you can regrow iceberg lettuce just in water, you will likely get bigger heads if you transplant them into dirt. Just wait until you see vigorous growth in both the roots and foliage, then transplant and bury the roots!

-Garlic

Next time you buy a head of garlic, pull a few cloves out and set them aside to regrow. All you have to do is bury them in nutrient rich soil, such as organic compost mix, up to the top tip of the clove. Keep the soil moist, and watch it grow! If you let your garlic grow for 5-8 months, you should have a few new heads ready to harvest, use, and regrow!

-Save your seeds!

Don't forget, the oldest and best way to grow new food from your old food is to save seeds. Peppers, tomatoes, strawberries, and tons of other fruits and veggies have seeds you can grow a new crop with! Some, like the pomegranate, you can even grow into a bonsai!

There are tons of other produce items that can be regrown. Some with only water, some with soil. Try out some other fruits and veggies and let us know what you've found works and what doesn't. We love seeing your projects and how they turn out!

CJ @ Children of Terra-NEO

Resources:

https://www.valuepenguin.com/how-much-we-spend-food" target="_blank">Value Penguin-How much we spend on food

https://www.davidwolfe.com/stop-trashing-your-scraps-16-produce-items-to-re-grow-at-home/" target="_blank">David Wolfe-Don't trash your scraps!

Azo Clean Tech-food waste and climate change

 

 

Categories: Going Green, How-To's, In the Kitchen

0

/