Shopping Cart
Your Cart is Empty
There was an error with PayPal
Click here to try again
Thank you for your business!
You should be receiving an order confirmation from Paypal shortly.
Exit Shopping Cart
| | |
| --- | --- |
| Posted on September 26, 2016 at 2:35 PM | |
Throughout my life, I have always loved the smell of mint. It has always connected to memories of running through the woods in the late summer and early fall, and my grandfather's greenhouse, though for many it connects to wintertime holidays. While mint, or more specifically peppermint, may smell amazing, it has a host of uses as a natural remedy. Many of us already make peppermint tea of our stomachs aren't very happy with us, or chew on a leaf when we want a snack or to freshen our breath, but did you know it has topical uses as well? Menthol, such as the menthol found in vapor rub, is derived from mint. It is this menthol that acts as a counterirritant when applied in muscle rubs, distracting you from the pain of minor aches and pains.
So yeah, peppermint is awesome. But something I didn't used to be too familiar with was eucalyptus. I knew that it looked and smelled awesome, and that koalas eat it. I've known where it comes from (Australia), and that it can be extremely different to grow outside of its native regions. What I didn't know is that eucalyptus may help shorten the length of time a person is effected by a cold, or a sinus or throat infection. I also didn't know that it may help muscle pains in a manner similar to peppermint oil.
With all the benefits of using peppermint and eucalyptus oils, why wouldn't I? So I decided to create a recipe that maximizes these oil's uses, focusing more on the relief of muscle pain and the calming effects the smell may have. Let's learn how to make a calming body butter with just 6 ingredients and a hand mixer!
Ingredients:
-¼ cup raw, unrefined Shae butter
-¼ cup raw, unrefined cocoa butter
-¼ cup coconut oil
-1/8 cup almond oil
-8 to 12 drops of peppermint oil
-8 to 12 drops of eucalyptus oil
-soap dye (optional)
Directions:
Place Shae butter, cocoa butter, coconut oil, and almond oil into a Pyrex glass or double boiler. Microwave the mixture in 10 second intervals, stirring between each interval, until the mixture is fully melted. If using a double boiler, just melt slowly until fully melted, stirring occasionally. Once melted, add your peppermint and eucalyptus oils. If you are adding a liquid or powder soap dye or pigment, mix that in with your essential oils as well. Transfer your mixture into your standing mixer or hand mixer bowl and place in the freezer until set.
It should take about 15-20 minutes to set, but I would strongly recommend checking on the mixture every 5 minutes. It should be solid enough for you to stick your finger into, and the mixture maintain your finger's indent. There should also be no runny liquid still sloshing around underneath a solid top. Once the mixture is set, use a whisk attachment on your mixer and whip the mixture at high speed until light and fluffy, usually about 2 minutes. If you do not have a mixer, you can just use a whisk and whip by hand. Make sure if you whip the mixture by hand that you whisk it very hard and very quickly.
Transfer your mixture into a tin or jar and store at room temperature. If your body butter should ever get too warm and melt down, just refreeze and whip back up again. If you prefer a firmer mixture, try placing the mixture in the fridge for a short bit. It should hold at room temperature for about a month, and in the fridge for about three.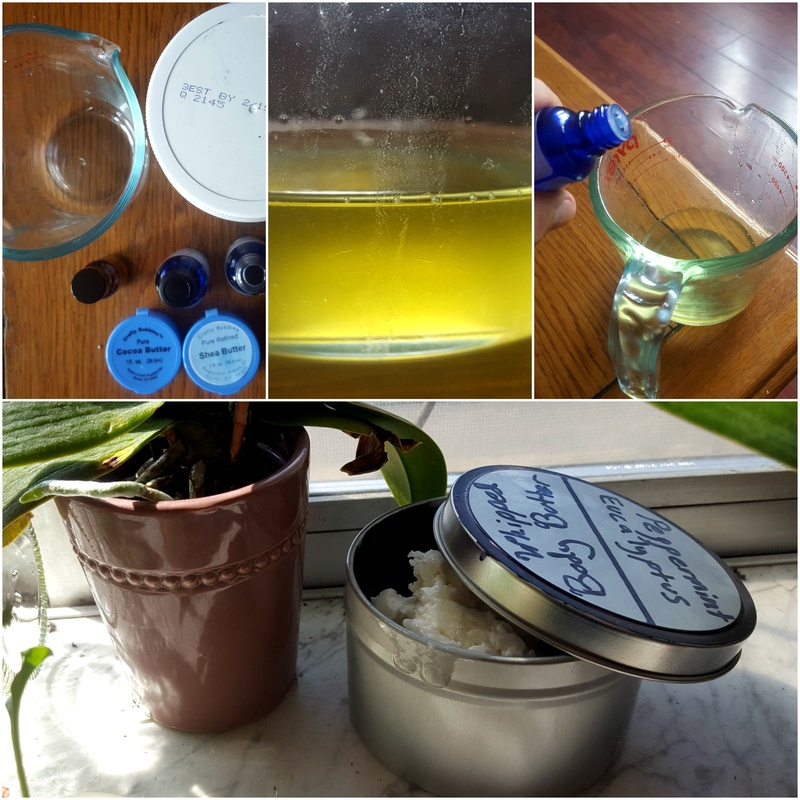 I love using this body butter after a long day of work to help relax and take my mind off of my muscle pain. My fiancé has been having issues with her sciatic nerve, and she swears the pain goes away after giving her a massage with this stuff.




CJ @ Children of Terra-NEO

Resources:

https://draxe.com/peppermint-oil-uses-benefits/" target="_blank">Dr. Axe-Uses of Peppermint Oil

https://draxe.com/eucalyptus-oil-uses-benefits/" target="_blank">Dr. Axe-Uses of Eucalyptus Oil

 

Product Reccomendations: Always be sure that the products you purchase for crafting are not only safe for use, but that they do not interfere with any potential allergies. If you are unsure, call your dermatologist or doctor.

Try to buy sustainably and morally produced and packaged products for your crafting needs and, if possible, try to always shop local. Shipping local not only helps out your community, but it can help both you and companies worldwide cut carbon footprints. Luckily there are a few mom-and-pop style craft shops with many of the items I need, and local metaphysical shops that not only grow the raw material for their products, but produce and package them locally as well. ALWAYS DO YOUR RESEARCH AND ALWAYS RECYCLE when applicable




 

Categories: Health and Hygiene , Upcycling and DIY, How-To's

0

/