Shopping Cart
Your Cart is Empty
There was an error with PayPal
Click here to try again
Thank you for your business!
You should be receiving an order confirmation from Paypal shortly.
Exit Shopping Cart
| | |
| --- | --- |
| Posted on August 4, 2016 at 11:35 AM | |
I don't know about you, but one of my most favorite things is the smell of fresh dirt and the feeling of seeds slipping between my fingers. I'm talking of course about starting plants from seed. While it may be long past seed sowing season here in Ohio, many southern parts of the country are just starting some of their fall crops, and many indoor hobbyist gardeners are planting seeds year 'round.
According to the National Gardening Association, around 42 million American households are growing their own food in their own gardens or in community gardens now. That makes up close to 35% of our population! While some prefer to buy plants that have already been started for them, most people seem to enjoy starting at least some of their plants from seed, which often requires special containers and nutrients. So why spend all of that extra money on (more often than not) non-green products when there are all kinds of great green alternatives already in your home?
Here, I will show you a few ways to upcycle common waste into great containers in which to start your seeds! Each of these items is easy to make, makes caring for your seedlings a breeze, and helps ensure a safe and effective transfer once you move them into the ground or new container. As these containers break down after transplant, they will help provide your young plants with an extra boost of nutrients!
Egg Shell:
Supplies:
-Egg shells
-Soil
-Seeds
Directions:
This container takes almost no effort to make. When using eggs for cooking or other projects, simply crack the eggs just above the halfway point. Make sure the shell is clean, add soil, and plant away! Eggshells are great to plant small flower species, some grasses, and even your smaller herbs or vegetables. Grow tiny flowers such as alyssum in your eggshells for a beautiful, living decoration.
When moving your plant into the ground or a new container, you may leave a little bit of the eggshell sticking out of the ground, since eggshell acts as a deterrent for common garden creatures such as slugs and snails. As the shell breaks down, it provides an ample source of calcium to your growing plant. Planting tomatoes, peppers, eggplant, or other plants that tend to suffer from blossom rot in an eggshell may help to prevent it, as the rot is most often the result of a lack of calcium.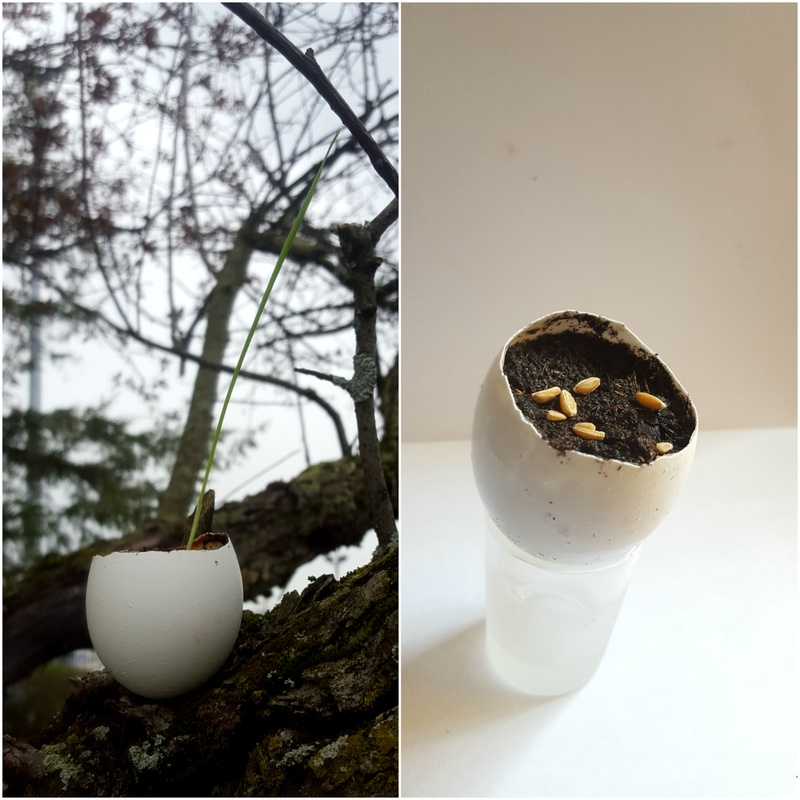 Toilet Paper/Paper Towel Tube:
Supplies:
-Paper towel and/or toilet paper tube
-Scissors
-Soil
-Seeds
Directions:
This container only takes a couple of minutes to put together, and makes watering your seedlings super easy! While we strongly urge you not to use paper towels due to the negative environmental impact such products tend to have, if you do have some left over tubes (empty rolls) or tubes left over from toilet paper rolls, be sure to set them aside for this project!
To make this container, make four 1" long incisions up the length of the tube, at an equal distance from each other. This should leave you with four flaps. Fold them over each other, starting with one flap and going around the tube. Tuck the corner of the last flap you fold under the first flap you folded. Now just fill the container up with moist soil and seeds! Be sure to place the containers in a watertight pan or tray. When you water your seeds and seedlings, just add water to the tray. The water will wick up the container. When transplanting, cover the entire container in dirt. Be sure the edges are not sticking out of the soil, as that may cause water to wick out of the soil and away from the roots.
As toilet paper, or "bathroom tissue" is a convenient and widely available means of bathroom sanitation, most American households have a constant supply of tubes. Often times, these tubes are not properly recycled. By using them as containers to start your seeds in, you are not only recycling, but making your gardening easier, too! Another benefit is reaped as the tube breaks down in your soil, providing carbon, which is an important element of fertile soil.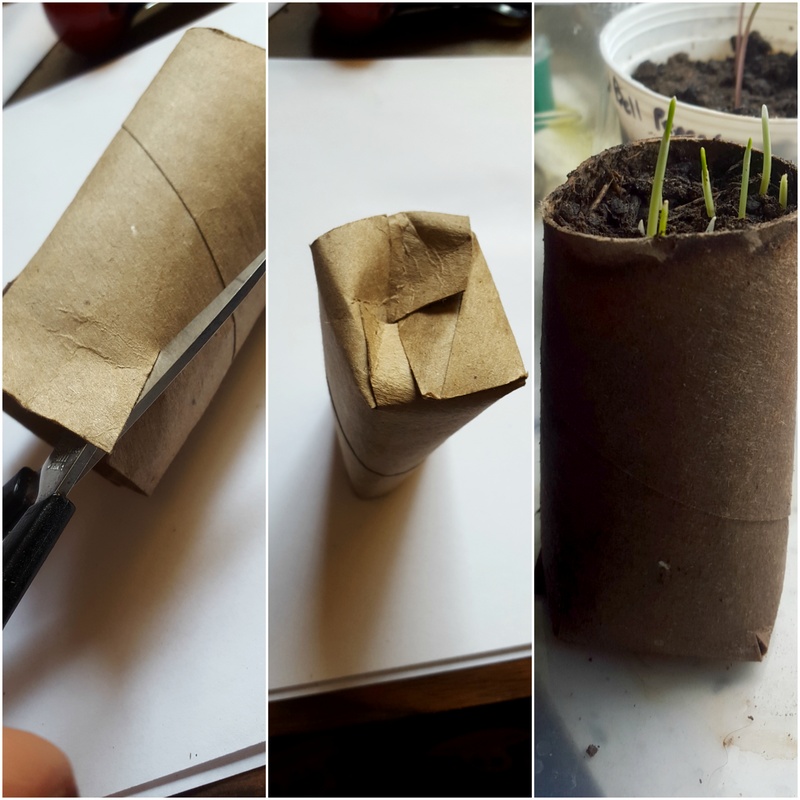 Newspaper or Scrap Paper Pots:
Supplies:
-Newspaper or scrap paper that is not glossy and does not have toxic ink on it
-Can, glass, or other item to form your pot.
-Seeds
-Soil
Directions:
To make this container, cut your paper into a large square, or even a slight rectangle will do. Fold the paper in half, and press the seam down hard. On the opposite edge of the paper (the long edge that is not folded), fold a small section of the top over, and make a hard crease. Next, lay your cup or can down on the paper, being sure to leave about ¼ of the paper sticking out, on the folded edge. Roll the paper around the can or cup, and hold the seam tight. The folded lip at what will soon be the top of your pot can get tucked under the other side. Now, fold the bottom like you would fold the ends of a change roll, being sure to start at the crease.
To hold everything in place, press down hard on the can, with the bottom of the pot on the table. This will help form better creases at the bottom. If you have any little bits or strips of paper leftover from cutting, you can use them to plug up any holes in the bottom of your pot. Now just add soil and seeds, water, and let grow! Make sure you water these pots the same way you would water the paper towel tube pot. Keep the pot or pots in a tray, and just add water to the tray.
When you transplant one of these pots into the ground or a bigger container, just drop the whole container into the soil! Be sure that the pot is completely covered in soil, or you risk moisture wicking away from the roots. These quick and easy pots will help make your seed starting super easy, and will become a good source of carbon as they break down in the soil!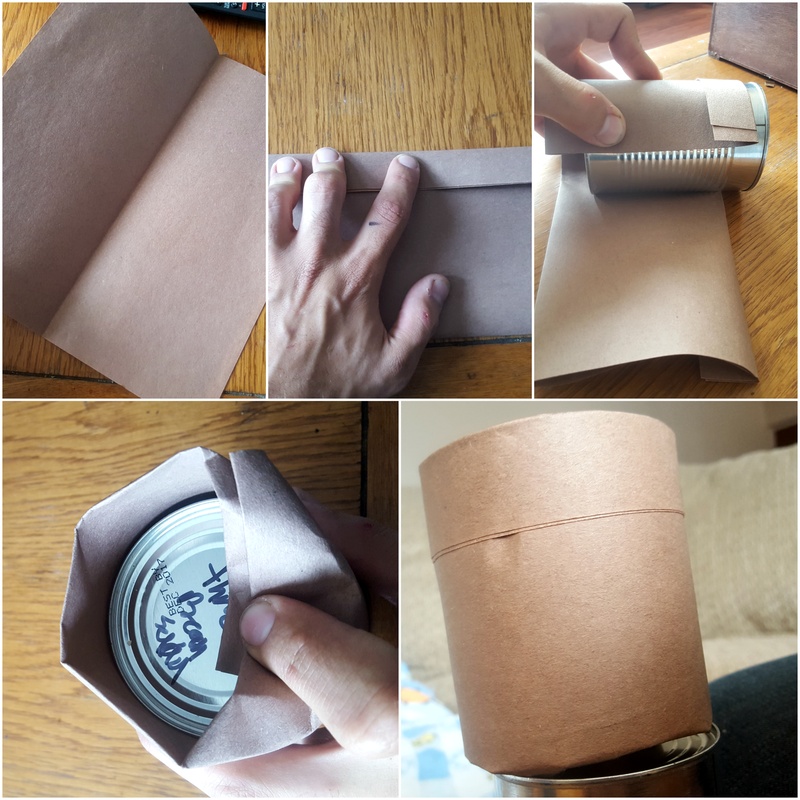 Store bought alternatives:
There are many store bought, eco-friendly seed starting alternatives on the market, as well! You can find products designed to help you create all kinds of homemade containers, including simple wood forms to help you create the paper pots we made in this article! Or if you don't want to put the work in, there are products such a peat pots, coconut husk fiber pots, pots made out of cow poop, and pulp-formed pots, that you can just drop straight into the ground to transplant, are eco-friendly, biodegradable, and can help provide a boost of nutrients to your plants.
No matter how cool or easy the product, always be sure to do your research! Be certain that the company whose product you are purchasing are using truly renewable resources and have a low or negative carbon footprint. Next, be certain that the container you are using will meet the needs of the plants you are placing in it, and your methods of plant care. If everything checks out, go for it!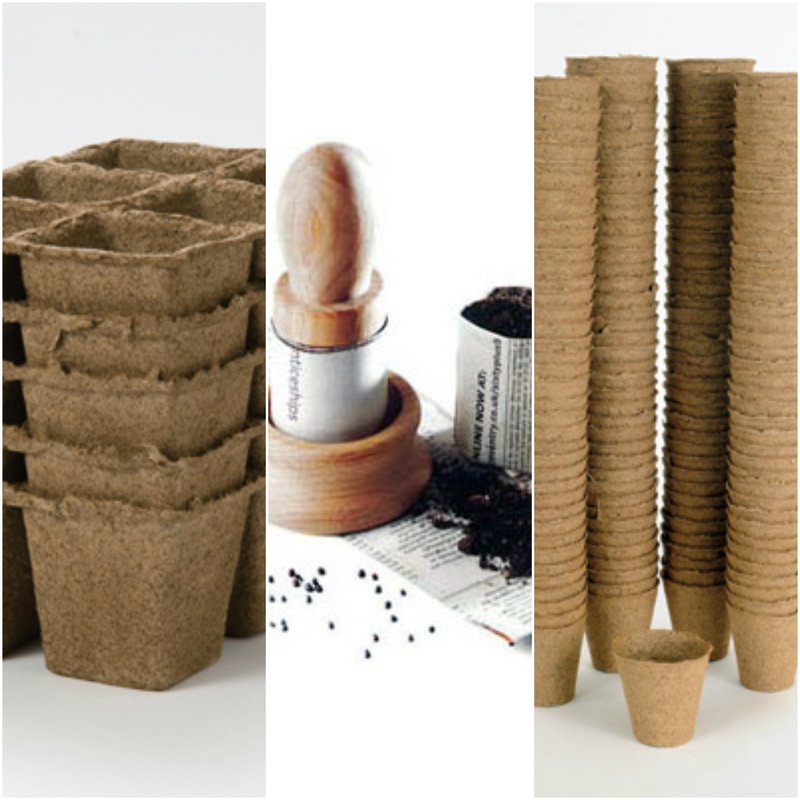 CJ @ Children of Terra-NEO

Resources:

Gardening At All Time High-National Gardening Association

Green Urban Guide to Seed Starting 

 

Categories: Going Green, Upcycling and DIY

0

/